Competent leadership advisory is based on in-depth research and deep understanding. This is why I invest time in studying academic organizations and their leaders to understand what matters most in leadership of universities and research labs.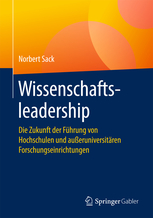 In my book "Wissenschaftsleadership" (2019) I analyze success criteria for leadership at universities and research labs. I derive a leadership model which can be applied specifically to academic organizations.
A Podcast with Patrick Honecker and Jan-Martin Wiarda. Together with Ulrike Beisiegel we adress the question what barriers and challenges women leaders in academia still face today.
Unis brauchen starke Spitzen
An article in Die Zeit on Oct 30 2019 that stresses the importance of strong leaders for universities.
Deutsche Universitäten: Chancen und Risiken der Exzellenzstrategie
A broadcast on Deutschlandfunk on Dec 27 2019: Hochschulquartett. A discussion on implications from the German Exzellenzstrategie for universities.
Schlechte Führung lässt sich in der Krise nicht mehr verstecken
An oppinion piece on Jan-Martin Wiarda's blog on May 12 2020 on the importance of leadership in education during the Corona crisis.
Ein Governance-System mit Schwachstellen
An article in wissenschaftsmanagement.de on June 06 2020,  reflecting on the enormous complexity that leaders of German universities and research labs face.
Ein Weckruf für die deutsche Wissenschaft
An impulse on Jan-Martin Wiarda´s blog on December 7 2021 on the need for structural change in the German academic system by Michael Baumann, Thomas Hofmann, Norbert Sack and Georg Schütte